View the summary report
...Read More
---
book now… ...Read More
---
"Strength Through Diversity"
This year's statewide Men in Nursing Conference was a great success! Themed "Strength Through Diversity", the conference boasted 218 attendees. This annual event continues to grow, both in popularity and size. Held at the Wyndham Anaheim Garden Grove, November 3-4, 2017, attendees were treated to numerous empowering sessions, including the opportunity to participate in a live chat session with the Executive Director of the California Board of Registered Nursing, Dr. Joseph Morris.
For more information, visit:
Men in Nursing 2017 Event Details
Men in Nursing 2017 - Facebook Page
...Read More
---
Marcus Engel, M.S., CSP Speaks from experience in an unforgettable tribute to healthcare professionals that provides insight and strategies for excellent patient care.
After being blinded and severely injured by a drunk driver, Marcus overcame unimaginable obstacles to reclaim his life. His inspirational story ignites a passion in professionls in the medical field to provide excellent patient care.
Flyer for November 16 & 17, 2017 Speaking Engagements - San Diego
...Read More
---
Internationally-trained nurses face a difficult barrier to obtaining their license to practice in California. Many nursing courses are comprised of both classroom instruction and clinical practice in a healthcare setting. The California Board of Registered Nursing requires that both components take place concurrently. In some nursing schools overseas, they are offered in consecutive semesters, which is deemed a "deficiency" and makes the applicant ineligible to take the NCLEX-RN (National Council Licensure Examination), a national exam one must pass in order to receive a state nursing license.
Often, these nurses need to take only one or two courses to satisfy the requirement,…
...Read More
---
Click here to see how Mercy Medical Center Mt. Shasta, a rural hospital in far northern California, met its workforce needs by investing in existing employees. The video is also available on YouTube, reference Mercy Mt. Shasta.
...Read More
---
The Innovations in Health Occupations Education Conference was a great success in sharing teaching methodologies using technology and hands-on training for student engagement and increase learning outcomes. The over 140 attendees were grateful for the opportunity to explore tools to change their delivery to the millennial student population, but also maintain a traditional approach to teaching. The conference was held on January 12, 2017 at the DoubleTree Ontario Airport.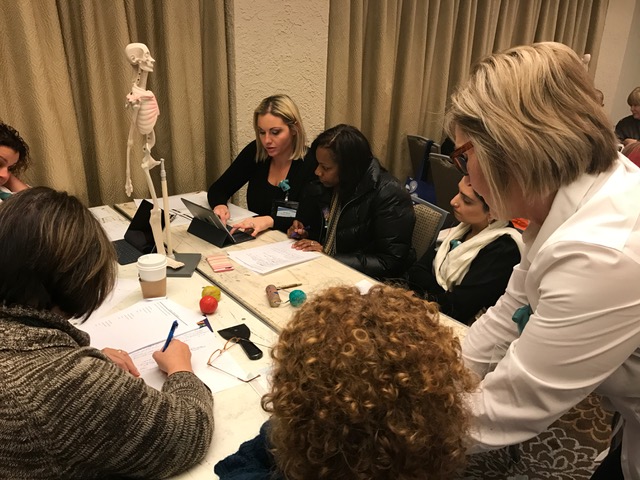 Keynote Presentation: Teaching: What We Know Works (so far)
Breakout Session: Mindful Teaching and Learning
Catherine Haras, Director, Center for Effective Teaching and Learning, California State University, Los Angeles
Your conference was fantastic! I especially enjoyed the…
...Read More
---
Attached please find the California Community Colleges Guidebook to developing a successful Faculty Externship Program. This user-friendly guide provides a general framework with sample templates for the design of a Faculty Externship Program including logistical considerations, recruiting and management of participants (HWI - Inland Empire 1070 project, with assistance from the Coachella Valley Economic Partnership 2014).
...Read More
---
Soft skills are central to patient-centered care regardless of an employee's position within healthcare. The California Hospital Association, the Health Workforce Initiative (HWI) Statewide Industry Advisory Committee, the Statewide Sector Navigator, and the Regional Deputy Sector Navigators (DSN's) have recognized this need and subsequently requested that there be increased attention to the area of soft skills training.
In response to this need, the Statewide Sector Navigator wrote and was awarded an Industry-Driven Regional Collaborative (IDRC) – Acute Need for Embedded Soft Skills grant from the California Community Chancellor's Office, in part to develop soft skills training programs for incumbent healthcare workers. Read an article from the CA Forward…
...Read More
---